In a 2021 speech at the Americas Lodging Investment Summit, Hilton President and CEO Chris Nassetta called hospitality "an engine of hope and beacon of opportunity." This is especially true for entrepreneurs looking to create careers and long-term business opportunities by investing in, managing or owning hotels.
Recognizing that more minority investment is needed, Hilton is supporting programs like She Has a Deal (SHaD), founded by Hilton hotel owner Tracy L. Prigmore, that helps pave the way for future minority owners through educational and financial support programs. Beginning this year, Hilton has also joined the U.S. Black Chambers (USBC), as part of our ongoing commitment to learning and growing with Black businesses. This commitment is furthered through our Hilton Supply Management Supplier Diversity Program, providing minority business groups opportunities to feature their products or services in Hilton's corporate and managed properties.
To honor the Black community for its many contributions to American society and the world this Black History Month, we are proud to highlight several Black-owned hotels across the Hilton system and invite you to visit them for your next stay, and a few activities to engage in, supporting Black businesses, along the way. Many of these hotels are recognized by the National Association of Black Hotel Owners, Operators & Developers (NABHOOD), which provides a snapshot of Black-owned and -operated hotels across the country. As the country recovers from the economic impacts of the COVID-19 pandemic, supporting these independently owned hotels and other Black-owned businesses remains critical in the year ahead.
Washington, D.C.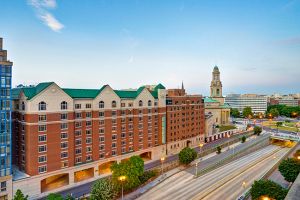 Known for its history, art, music, fashion, and of course, brunch, Washington, D.C., like many other U.S. metropolitan cities, allows you to sample a variety of Black-owned businesses all in one spot. Did you know that the world's oldest continuously operating soul food restaurant is located in the District? Or that go-go music, a sub-genre of funk music created by D.C.'s Black community, was named the official music of D.C. in 2020? It's no surprise that the nation's capital is also home to a variety of Black-owned businesses. D.C.'s strong Black history can be felt in every aspect of the city, and recent years have seen a shift with the community reclaiming its roots. Come shop, eat or party in the nation's capital to celebrate Black History Month, but also be sure to make your trip an educational one by visiting one of the city's many Black-owned bookstores or drop by the nation's largest museum dedicated to African-American history and culture to learn about the history of Black entrepreneurship and its impact on American society.
Homewood Suites by Hilton Washington, D.C. Downtown is located in the heart of the nation's capital. Owned by RLJ Lodging Trust, a publicly-traded real estate investment trust founded by Black Entertainment Television (BET) Founder Robert L. Johnson, this hotel is located close to many area attractions, including the Capital One Arena (home of the NHL's Washington Capitals), the White House, the Washington Monument, and the Smithsonian museums.
Atlanta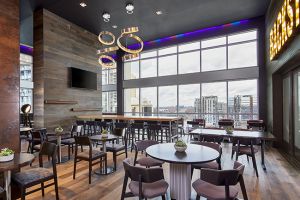 Atlanta has come to be synonymous with Black culture. Although considered the capital of hip-hop and R&B, the city's claim to fame extends into other facets of the arts as well. Georgia Council of Arts, headquartered in Atlanta, reports that the state's creative industries account for a significant portion of its revenue and job force, drawing in millions of tourists each year. With one of the largest overall and Black-owned film production studios in the U.S., the first hip-hop museum celebrating southern trap music, several Black-owned art galleries, renowned tattoo shops, and home to the newly established Black Music and Entertainment Walk of Fame, Atlanta is where Black art and artists thrive.
Plan a stay at Hampton Inn & Suites Atlanta Midtown where guests can rest easily while centrally located in Midtown Atlanta. Downtown Atlanta, Fox Theatre, Georgia Institute of Technology and the Georgia Aquarium are all accessible from this Atlanta hotel, with the High Museum of Art and award-winning Alliance Theatre just a short walk away. Spacious rooms, stylish décor and modern design await guests at this RLJ-owned hotel. Round out a day of exploring Atlanta's cultural scene at the hotel's unique indoor/outdoor rooftop bar and lounge area, perfect for taking in Midtown Arts District views.
Miami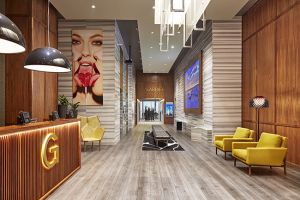 A favorite among Caribbean and Latino immigrant communities, Miami is a sunny paradise with plenty to offer in the form of Black-owned businesses. With some of the most in-demand physical training, cosmetic surgery and health businesses, beauty and wellness are the names of the game for finding business success in this South Florida city. Here, you'll find Black-owned brands inspired by and incorporating natural products stemming from residents' Caribbean roots. Shopping for soaps, candles, makeup or haircare products? Be sure to make a stop in the Magic City.
A tribute to individuality, productivity, design and fashion, The Gabriel Miami Downtown, Curio Collection by Hilton is a striking, modern hotel in the heart of downtown Miami. This Biscayne Boulevard hotel puts guests in the perfect spot for gorgeous bay views – from any of the 85 guest room balconies or the 14th-floor pool deck. Flow with the beat of the city and enjoy custom curated art throughout the hotel, creative workspaces, and one-of-a-kind dining, including the sophisticated third-floor Library Lounge featuring refreshments and vibrant books about music, art, film and culture. Wellness-focused guests looking to be pampered during their stay will enjoy the newly designed spa opening in February 2022, the first on the U.S. East Coast featuring Annemarie Börlind products, offering guests a selection of ecologically sensitive products created from materials from the Black Forest.
The hotel is owned by CGI Merchant Group, a minority-owned global investment firm that recently announced investment plans in Morris Brown College, an Atlanta Historically Black College and University (HBCU). CGI's investment will fund the conversion of existing facilities into an upscale hotel and hospitality management training complex, establishing the nation's only HBCU flagged hotel and hospitality management training program. Hilton will join this partnership by managing the hotel as one of its Tapestry Collection properties, spearheading curriculum development and offering internship and post-grad career opportunities for Morris Brown students.
Houston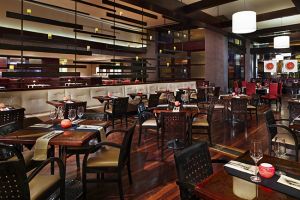 Houston's ethnic diversity is reflected in its dining options. Here, travelers can take a culinary journey around the globe, without ever leaving city limits. Maybe you're craving barbecue, soul food, Tex-Mex, Vietnamese, or Cajun and Louisiana Creole cuisine? No matter what you have a taste for, Houston can cater to your needs. Once referred to as the dining-out capital of the U.S., Houston's food scene draws visitors from far and wide, and even reached fame online. Its Black-owned food options range from West-African and Caribbean favorites, to Southern classics that have been passed down generations and those that have been given an added kick in recent years. Plan a brunch, lunch, dinner or evening drinks. Black-owned Houston has something for you to enjoy at all hours of the day.
Located in the heart of downtown Houston, the AAA Four Diamond-rated Hilton Americas-Houston features all of the luxuries of home plus all the amenities guests need whether traveling for business or pleasure. Ideally located just steps away from several of Houston's sports and entertainment venues, and the first hotel in Texas to achieve Green Seal certification for its commitment to the environment, the hotel checks all the boxes. Looking to grab a bite somewhere nearby? The hotel's on-site restaurant 1600 Bar + Grille, an upscale-casual downtown grille inspired by seasonal, farm-to-table, local ingredients, is led by Nigerian-born Executive Chef Ruffy Sulaiman. Chef Ruffy incorporates West African staples into his menus like Jolof rice and roasted plantain, which are set to be included in the restaurant's upcoming Spring/Summer menu edition.
Los Angeles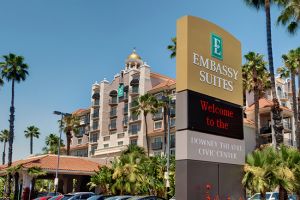 One of the world's most fashionable cities and arguably the country's biggest manufacturing center for fashion, Los Angeles has drawn in many emerging designers looking to get their businesses off the ground or kickstart their careers in the e-commerce realm. The rise of celebrity brands and popularity of influencer marketing has also made LA the clear choice due to its wide talent pool. For Black fashion brands just getting started, and small businesses that don't have the same resources as larger fashion houses, LA has proven to be best in class. If you're tracking down pieces you've seen top celebs sporting–from lingerie, fedoras, swimwear and athleisure brands, including those created by stylists to the stars–chances are you're looking for an LA-based Black-owned fashion line.
Embassy Suites by Hilton Los Angeles Downey offers a central location in Los Angeles County. Long Beach, downtown Los Angeles and the Anaheim Resort are all just a short drive away from the hotel. A recently renovated RLJ-owned all-suites hotel, you'll find fresh, modern design in each of the two-room suites, offering all guests a private bedroom and separate living room. With quick access to several major highways, the hotel is your perfect home base for getting out and exploring all LA has to offer.
About Hilton
Hilton (NYSE: HLT) is a leading global hospitality company with a portfolio of 18 world-class brands comprising more than 6,800 properties and more than 1 million rooms, in 122 countries and territories. Dedicated to fulfilling its founding vision to fill the earth with the light and warmth of hospitality, Hilton has welcomed more than 3 billion guests in its more than 100-year history, earned a top spot on the 2021 World's Best Workplaces list and been recognized as a global leader on the Dow Jones Sustainability Indices for five consecutive years. In 2021, in addition to opening more than one hotel a day, Hilton introduced several industry-leading technology enhancements to improve the guest experience, including Digital Key Share, automated complimentary room upgrades and the ability to book confirmed connecting rooms. Through the award-winning guest loyalty program Hilton Honors, the nearly 128 million members who book directly with Hilton can earn Points for hotel stays and experiences money can't buy. With the free Hilton Honors app, guests can book their stay, select their room, check in, unlock their door with a Digital Key and check out, all from their smartphone. Visit newsroom.hilton.com for more information, and connect with Hilton on Facebook, Twitter, LinkedIn, Instagram and YouTube.
Source: Hilton Newsroom – Feb. 1, 2022