Floyd Mayweather's influence on the real estate market in some of America's most important cities continues to grow. A VIP invite-only red carpet celebration was held at the Gabriel South Beach on Ocean Drive for the 45-year-old professional boxer and entrepreneur's birthday. Mayweather and CGI Merchant Group, LLC (CGI), a worldwide investment management firm specializing in commercial real estate and private equity, announced their new investment collaboration at the event.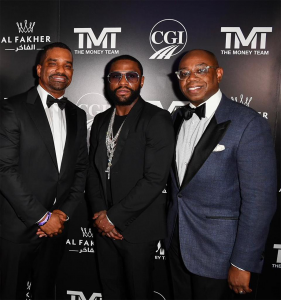 Mayweather is building a business empire for himself and showing other athletes how to do the same. He recently announced his ownership of The Money Team Racing (TMTR) in the NASCAR Cup Series. In the upcoming 2022 season, the team will begin qualifying for the Daytona 500. Aside from the new members TMTR intends to introduce, Nascar has only had seven other African-American drivers start in the Cup Series, including the most recent full-time driver Bubba Wallace.
The mogul has joined former Major League Baseball (MLB) star Alex Rodriguez in investing in CGI Merchant Group's $650 million Hospitality Opportunity Fund. Mayweather, who is ranked as the sixth richest sportsman in the last 30 years, is committed to creating generational wealth and providing the tools and education for other athletes to achieve success outside of sports. The new platform-level investment partnership, which aims to deploy more than $250 million in commercial real estate assets, will be open to other athletes, celebrities, and select family offices.
Mayweather commented, "My focus is on creating generational wealth and doing it with partners that share my values and drive for excellence." The partnership will have an impact on the lives of athletes and others who invest in the platform by helping them learn and create generational wealth.
The Gabriel South Beach and The Gabriel Downtown in South Florida are part of the portfolio of the Miami-based worldwide investment management organization. The consortium is also looking to spend $375 million on the Trump International Hotel in Washington, D.C. The collaboration includes CGI's flagship Hospitality Fund (H-Fund) and other CGI investment vehicles that cover a wide range of real estate strategies and asset classes, including hotel, office, and private credit, according to the firm.