CGI Merchant Group (CGI), a global investment management firm focusing on real estate and private equity, has created Conscious Certified Hotels (CCH) to create positive social impact in its destinations. All CCH properties will be housed within Hilton's collection of brands like Tapestry, LRX and Curio Collection. Flagship properties will be unveiled during this last quarter of 2021, with more to come throughout 2022, according to Raoul Thomas, CEO and founder of Miami-based CGI since 2006.
In fact, in August, CGI Hospitality Opportunity Fund I purchased for US$109 million the former Celino South Beach in Miami Beach, and just last week reopened a 132-key Gabriel-branded property, managed by Highgate under Hilton's Curio Collection soft brand. The deal closed weeks after the reopening of The Gabriel Miami, another Curio Collection affiliation in downtown Miami.
In March, CGI also announced a US$30 million investment in Atlanta, Georgia's Morris Brown College to convert existing facilities into a 150-key upscale hotel and hospitality management training complex.
Just last week, CGI was reportedly close making a deal to acquire the lease on the famed Trump International Hotel Washington, D.C. for somewhere between US$370 million and US$400 million. It is not clear if that potential transaction will come from its recently launched US$650 million fund.
Launched in late 2020, the US$650 million fund looks to purchase 20 hotels across gateway cities in North America and the Caribbean over the next three years. Alex Rodriguez, the former New York Yankees MVP turned businessman and Miami resident, is participating in the fund that also includes participation from Adi Chugh, founder of the New York-based Maverick Commercial Properties.
Acquired hotels will be in prime locations in gateway cities around North America and the Caribbean, according to Thomas. Built on ESG principles, CCH is committed to addressing the hyperlocal needs of its destinations, with a heavy emphasis on social causes.
CCH has created a proprietary social impact tracker aligned with key United Nations Sustainable Development goals about education, employment and prosperity, allowing the team to identify priority causes and track community impact through concrete data. It will also donate 1% of all room night revenue to local organizations. Each property will select their respective non-profits based on hyperlocal needs, and each will conduct a robust measuring effort to ensure impact.
In August, HOTELS spoke to Thomas to further discuss his plans for the fund and what has inspired him to create Conscious Certified Hotels. We will publish the complete Q&A with Thomas over the next two days.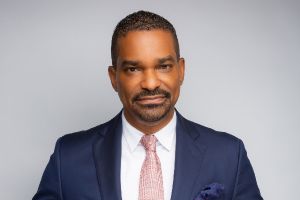 "We are focused on the social component with our assets being our superpower within ESG. And we define those in three pillars, the SHE pillars (social consciousness, health consciousness and environmental consciousness), which is essentially the genesis behind the brand identity." – Raoul Thomas
HOTELS: Tell us more about CCH?
Raoul Thomas: The central theme to our positioning of this brand is a giveback component, where 1% of all the revenue is generated under the umbrella of the Conscious Certified Hotels and will be given back to the host communities. We are focused on the social component with our assets being our superpower within ESG. And we define those in three pillars, the SHE pillars (social consciousness, health consciousness and environmental consciousness), which is essentially the genesis behind the brand identity.
H: Can independents that CGI doesn't own join CCH?
RT: We hope one day our brand power demonstrates enough premium to ADR, RevPAR and occupancy that independents see the benefit of joining and using our toolkit. We believe we are pioneers in this regard – penetrating the market with a need that's there for the conscious traveler. This is going to be meaningful because we plan to measure the impact that we're making in the communities… For every dollar that we give back and 1% of top line revenues for every single hotel is going to mean multiple millions of dollars over 10 years. We want to measure the impact that this will make monetarily in the communities where these hotels are hosted. We're using a proprietary tracker and an arm's length, independent auditor will review these numbers. So, published data will come out, independent of our ourselves, that will track this impact.
H: Tell us more about acquisition plans.
RT: We've already deployed capital and acquired three assets to give us about a quarter billion dollars of assets under management. We envision being close to seven assets by the second quarter of next year and our pipeline is very, very active across multiple segments. We are going to use the soft brands of Tapestry, LXR Hotels & Resorts and Curio as a primary driver, but we do see ourselves hopefully going into some of the hard brands of Hilton as we get into ultra-luxury.
We are looking at North America and the Caribbean as our primary focus and the parameters for acquisitions will be on a case-by-case basis. This is an opportunity fund, meaning that we are looking for value based on our investment criteria.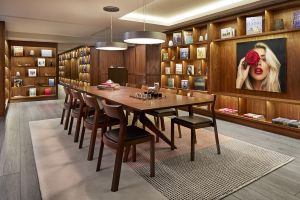 The library at the Gabriel in downtown Miami
H: Who's going to manage the properties?
RT: We have right now an assortment of potential managers in the case of the current assets. We have Highgate managing the Gabriel on South Beach and we have Davidson managing the Gabriel downtown asset. Hilton will manage the Morris Brown. We'll evaluate management on a case-by-case basis and we'll lean on Hilton for their advice and guidance, depending on the particular market and how they view the manager's strengths in each of these unique opportunities as we acquire assets.
H: Why exclusive with Hilton for the flags?
RT: I've had a relationship with Hilton for close to nine years, but it's developed much closer, I would say, in the last three years between myself and Chris [Nassetta]. So, there was an alignment based on something very rooted in a comfort level with the executive team there. But I think the philosophies of the two organizations align very well. Hilton has a strong emphasis on all mandates around ESG. They also have been a big proponent of seeing greater representation and ownership by minority groups. So, I think that was something that was also aligned in terms of their vision and ours… More importantly, the underscoring thesis behind CCH making an impact in the social realm was something that we clearly were aligned with Hilton and seeing from their organizational perspective to ours is a natural fit.
H: Can you talk about the structure of the deal with Hilton?
RT: It's a long view of acquiring, amassing collectively multiple assets over the next three years. We are committed to them exclusively, in this regard. We're deploying US$650 million of equity capital, which by the time we get done will be close to US$1.2 billion in asset value through the Hilton pipeline. In exchange, there will be resources given to us that will be substantial, and we are leaning in to those resources, from market intelligence to how we approach our investment criteria for each of the opportunities, operational issues, marketing, everything across the board of how we want to manage these assets. We have the ability to interface very closely with the Hilton organization and lean in to that support in a very unique way.
Watch for Part 2 of this interview tomorrow.